We've been doing quite a bit of decorating to the living room and hallway over the last few months.  I'm really excited about all the new little details.  Originally the husband and I had planned on hanging the picture below from Mexico in our master bedroom.  When we ended up going with the red accent wall instead of the gray one the picture no longer would do in the bedroom.  Since we still loved the memories of the trips we've taken to Ixtapa and the picture itself I was confident we would find a place for it eventually.
A few weeks ago I threw my friend a baby shower and in an effort to set the house up for the party I moved the big comfy chair from the living room nook to where we placed the Christmas tree this year.  I really liked how the new chair placement no only added one more place to sit near the couch, but also made the living room area feel more cozy!  The only problem was now the nook was pretty much empty.  The side table was still there, but it just wasn't/isn't enough to fill the space.  The space needs some wall art as well as piece(s) of furniture.
FINALLY we had found a place for our sunset photo!!  After going back and forth between having the photo as a print and framed or a canvas wrap we eventually decided upon a canvas for the sunset photo.  With some help from the rents I decided upon the size (36 x 24) and ordered it from My Publisher.  The best part was My Publisher was having a sale so we got 40% off the canvas wrap!  Within a week the canvas wrap arrived at our front door.  One hook and a level later we were in business!!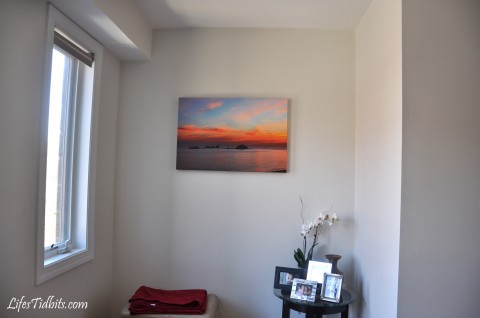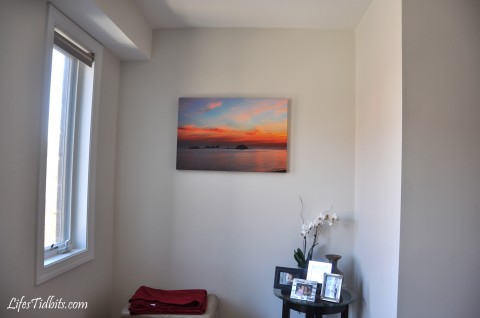 Now all we need is the matching sideboard to our wine rack and dining table.  Once we put the sideboard in this little nook it will be complete.  Please Crate and Barrel send us a coupon so we can get a discount on our sideboard!!!
What do you think of the canvas wrap??
Happy Decorating!!
If you liked this post, please add your tidbit by commenting below!