7 months pregnant and the baby is the size of a pineapple!  It is amazing how quickly these little people grow.  It's exciting to be in the 3rd trimester and final stretch of the pregnancy.  It is crazy how quickly the pregnancy is passing by.  Sometimes I feel as though I've been pregnant forever and other days its like I blinked and the 3rd trimester arrived.
As I mentioned in my last pregnancy update I have been horrible about taking baby bump photos this time around.  The only photos I have from this month are of me from the chest up or family photos from the holidays where it's hard to tell if I'm pregnant or just had too many hamburgers.  I really need to get my act together and take a few more bump photos before this little guy arrives!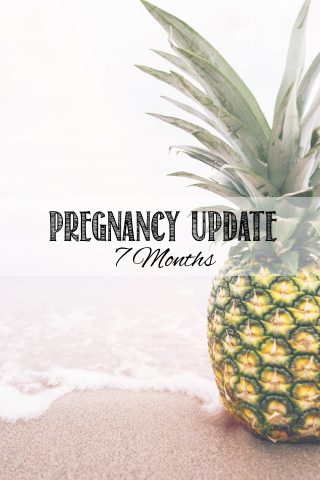 Third Trimester: Month 7 in Review
Craving …
Oranges and milk chocolate.  Not together though :)
Feeling …
Generally pretty good!  I am starting to feel big, but I think that's in part because so many people keep telling me my belly is huge.
Missing …
Sleeping through the night.  Baby boy likes to sit directly on my bladder, which mean frequent trips to the potty regardless the time of day.
Wearing …
Same as last month.  All maternity clothes with the exception of a few pairs of sweatpants and yoga pants.  The sweatshirt no longer comfortably zips over the bump so it's no longer in the rotation.  I've also worn my non-maternity bathing suit for the last time.  It was my post pregnancy swim suit which I have now stretched to the ultimate MAX.
Movement …
Lots and lots.  This little guy, just like his sister, is a mover and a shaker!
Excited About …
Finding a doula.  We only met with two doulas, but I could tell almost instantly with the second woman she was a good match.  I very much appreciated her upbeat personality as well as her perspective on giving birth.  The doula we hired also came very highly recommended by a good friend of mine.
Monthly Highlight …
Jellybean has gotten really into feeling the baby kick.  She shrieks with glee "Mommy the baby kick", "Mommy, Kiwi is saying 'hi sister'" and other adorable things.  Sometimes when he's not moving Jellybean will look at me and take deep breaths in and out.  The baby often moves more when I take deep breaths.  It's precious to see Jellybean mimicking me in hopes of making Kiwi kick.
Nervous About …
Nothing really at this point.
First vs. Second Pregnancy …
Overall I think my energy and comfort level are much higher with the second pregnancy.  In part I credit being more active this time around as well as having a toddler to chase around and keep entertained!  I always wondered how these moms with baby bumps were toting their toddlers around.  Then I realized we do what we have to do, and if my 3 year old wants me to carry her, I do, because … I love her.  It's hard not to when I know one day she won't want me to carry her around anymore.  Got to soak it up while I can!  Check out the recap of the 7th month from my first pregnancy!
Any pregnancy tidbits you care to share?  I would love to hear them!