Last week I was totally craving homemade mac & cheese.  I am not really sure what triggered the need for this dish given I haven't had it in ages.  In any event mac & cheese was going to happen in my belly!  This super cheese homemade mac & cheese is a serious comfort food dish.  According to the husband and a friend who joined us for dinner they said this mac & cheese recipe is a winner!  Just looking at the picture makes me want to eat some.  YUMMY!!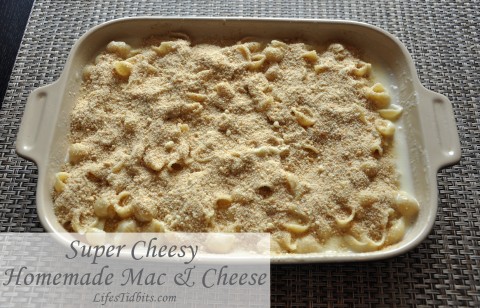 Recipe inspired from A Cup of Jo and The Pioneer Woman.
Ingredients:
1 box pasta
2 cups milk
3 tablespoons unsalted butter
3 tablespoons all-purpose flour
1/2 teaspoon salt
1/2 teaspoon ground/dry mustard
12 oz Sharp Cheddar Cheese
1/4 cup plus 2 tablespoons grated parmesan
1/4 cup bread crumbs
Directions:
Preheat the oven to 350*
Cook pasta until al dente and drain.  Remember to salt the water before adding the pasta!
In a sauce pan, melt butter and add in the flour. Whisk together over medium-low heat. Cook mixture for five minutes, whisking constantly.
Slowly add the milk and continuing whisking.   Add mustard and reduce the heat to low.  Add in cheddar cheese a handful at a time and only add more once the cheese is completely melted.  Add the grated parmesan last.   Pour cheese/milk mixture over the pasta and stir to combine.  Pour pasta into a baking pan.
In a separate bowl combine the bread crumbs and 2 tablespoons of parmesan and then  pour over the pasta as evenly as possible.  Bake for 20 to 25 minutes or until bubbly and the top is golden.
Serve and most important enjoy!  This dish is a great main meal, side dish and makes wonderful lunches.
Happy Cooking!
If you enjoyed this post, please add your tidbit by commenting below.  Don't forget you can follow us on Pinterest, Instagram, Facebook and Twitter.