I found navigating the baby registry waters a bit difficult.  There are SO many products out there and everyone has a different take on what one should buy.  Since all babies are different it is nice to have options, but at the same time it's so EASY to feel overwhelmed with choices.
My newborn necessity list was quite robust (you can find that here).  For purposes of these favorite/must have lists I guess I am qualifying newborn as 0-2 months old.  We still consistently use all items on the list with the exception of the wubbanub.  Jellybean decided at some point she was over pacifiers, which is both good and bad…I think!
As Jellybean grows so does my list of must have baby items.  Some stuff we didn't know to put on the registry and I wish we had known how handy they would be!
So for months 3, 4 and 5 here are my favorites …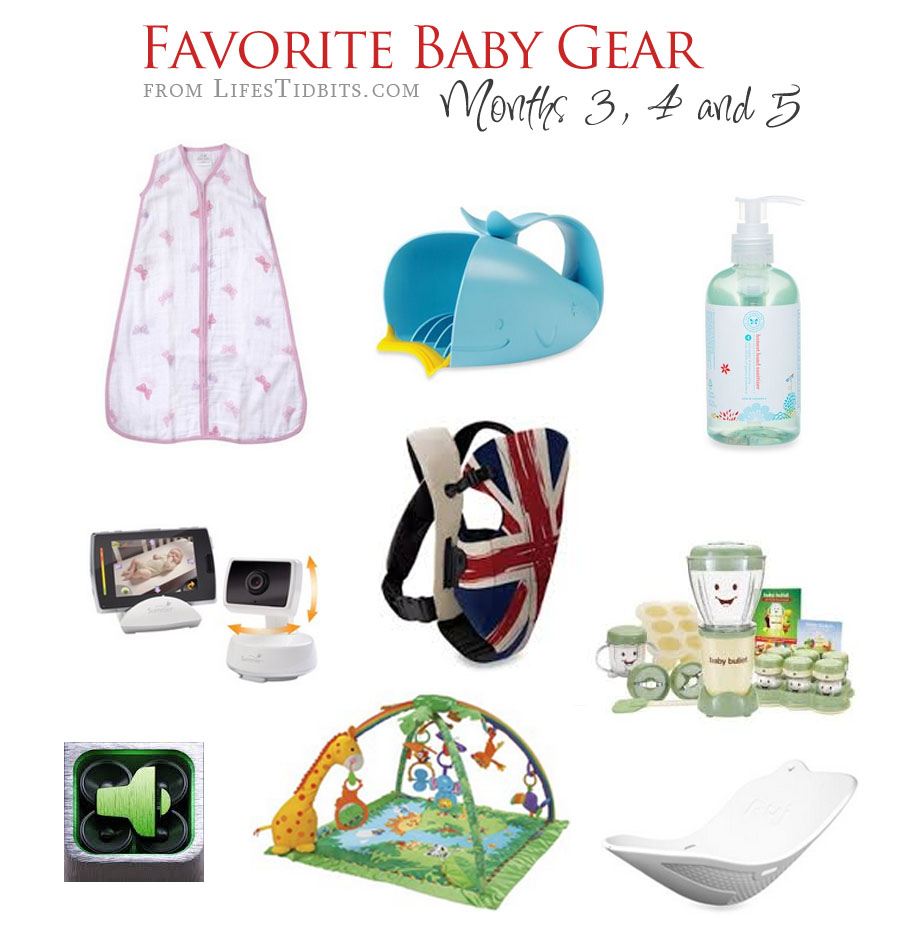 Puj – I really love this tub.  It's small/compact and easily fits into the bathroom sink, which means NO bending over to wash baby!  The no bending over was key while I was still recovering from the cesarean.  I must admit I still prefer it to the bigger tub because it's easier.  My only complaint would be baby girl falls down during her baths since she can't sit up on her own yet. I wish there was something to help keep her upright.
Skip Hop Moby Waterfall Bath Rinser – This item came in SUPER handy when I finally worked up the courage to bathe JB without a second set of hands.  I found it difficult to hold her in place, put a hand over her face and pour water over her head all at the same time.  The way this thing is shaped it helps ensure the water cascades down the baby's back instead of letting the soapy water get in their eyes.
Snugli – There are many baby carriers out there and honestly I felt overwhelmed trying to choose one.  We registered for (and received) the ErgoBaby.  I do love our ErgoBaby … the snugli is just SO much easier to snap baby in and go.  The other positive is your don't have to deal with an infant insert.  As soon as the baby is 7 lbs you are good to go.  And if like me, your baby is born over 7 lbs to start with you can just it day one!  Our snugli was gifted from a friend (thanks Jessica!) and is getting a  TON of good use especially when we walk the dog.
Playmat – First 'toy' Jellybean was really able to play with.  So far it has really grown with her and whether she was 6 weeks or 5 months it's a hit.  The playmat is super colorful, plays music and the toys included each provide a different type of stimulus.
Honest Hand Sanitizer – Total impulse buy, but I love it! Smells good and we got the under 3oz size so it's FAA friendly too.
Video Monitor – The transition from our room in the cradle to Jellybean's own room in the crib was fairly easy.  Actually it was really easy for her and super difficult for me.  I missed rolling over at night and seeing her little chest rise and fall with each breath.  Though her 'noises' would sometimes keep me awake I was comforted by them at the same time!  The video monitor was the only thing that kept me from demanding my husband 'let' me move the baby back into our bedroom.  Though JB has been in her own room for over 2 months there are still nights I check the monitor in the middle of the night just to see her little face :)
Sleep Sacks – When Jellybean started rolling over it quickly became apparent the swaddling days were, sadly, over.  We have warm and light weight sleep sacks.  If I had realized how soon we would need them I would have put a few small sized sleep sacks on the baby registry.
White Noise (SimplyNoise) App – At first we were really into the Sheep, however it turns off after 45 minutes.  A friend turned us onto the SimplyNoise app.  The only problem with using the app is our iPad has turned into an EXTREMELY expensive sound machine hahahaha.  I've started researching sound machines, but have yet to pull the trigger and buy one (suggestions?!?).
Baby Bullet – We just started introducing solids and I'm having fun making the baby food!  The baby bullet makes the process simple and is very to clean.  I could certainly use my Cuisinart, however the bullet is easier.
So mamas what am I missing?  Any recommendations for month 6??
If you enjoyed this post, please add your tidbit by commenting below.  Don't forget you can follow us on Pinterest, Instagram, Facebook and Twitter.