Baby is officially fully baked and it's go time!  Though I'm not sure baby knows this fact, as he's still happily hanging out in-utero with no signs of making his debut anytime soon.  The planner in me is ready to explode not knowing when he will arrive, and yet I know in my heart he will be here when he's good and ready … and most likely on the day we least expect him to arrive.
Any amount of stomach discomfort, no matter how small, makes me pause to assess whether or not I think it could possibly be a contraction.  I guess I've had a few Braxton Hicks, but I wasn't even really aware of what they were until a midwife I was talking to told me it's likely what I was experiencing.  One would have thought, given this is my second baby, I'd be a bit more in-tune with what's going on.  #MamaToBeFail =)  I'm trying my best to stay active and keep busy, but I must admit I spend most of the day waiting/hoping/praying for labor to begin.  Come on baby … mama is ready!!!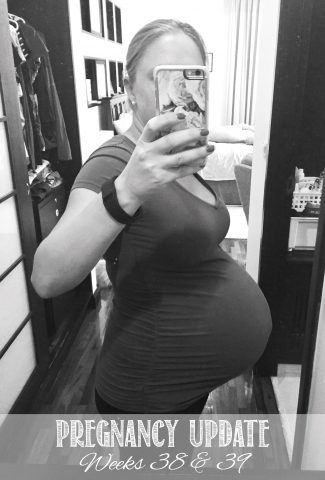 Third Trimester: Weeks 38 & 39 in Review
Craving …
Homemade granola (modified version of this recipe) and lemonade!  Good lemonade is fairly hard to come by in Bangkok, but my friend recommended a place with excellent lemonade and I seriously can.not.get.ENOUGH!!!
Feeling …
Swollen and hot.  It's almost as though my brain sent my body a memo saying "it's time to retain as much water as possible before this baby come out."  The not-so-glorious result is a very swollen mama-to-be.  My feet, ankles and hands seem to be taking the brunt of it, but my face is also starting to look … full … ugh! ;)  My body is running pretty hot, but Bangkok summer is upon us and making things a wee bit hotter!
Missing …
Sushi.  I've been craving sushi as of late and can't wait to pop this baby out so I can go hit up one of my favorite sushi restaurants in Bangkok with the girls!
Wearing …
All maternity clothes plus a couple pairs of pre-pregnancy sweatpants.  Getting pretty excited to wear 'normal' clothes again, though I'm fully aware it will be awhile after baby is born before that actually happens.
Movement …
Lots of it.  My belly looks like it's doing the wave sometimes when he moves from one side to the other.  Kiwi keeps one little foot about 5 inches above my right hip.  It's fun to know that most of the time when I put my hand in that spot his little foot will be there.
Excited About …
Meeting this little guy.  I can't wait to see what his personality is like and what he looks like.  My daughter is a mini, female, replica of my husband and I fully expect my son to look just like them as well.
Highlight …
Spending a day with my husband.  It was so much fun to spend a day just the two of us!  It's rare we get more than a couple of hours alone so a full day date was really quite special.
Nervous About …
When/if labor will start.  Pretty much the same thing I was nervous about for weeks 36 & 37.
First vs. Second Pregnancy …
Checkout my recap of my 38 and 39 week with Jellybean.
Any pregnancy tidbits you care to share?  I would love to hear them!