Although I love the glass shower in the master bathroom we noticed very quickly after moving in that it leaks … A LOT.  You couldn't tell while you were showering, but when you picked up the bathmat there was water underneath.  It was a little annoying, but honestly it was more than that … it was frustrating.  We tried pointing the shower head towards the wall however that didn't really help.  Plus who wants to shower so they are shielding the water from the door with their body!?!?!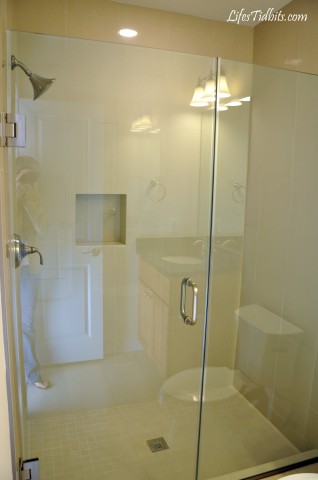 When going through my condo pictures I realized I don't have one that includes the very bottom of the shower, but you get the idea.  I didn't realize until I started editing this picture you can see me (and my camera) in the reflection of the glass.
The husband has become quite handy at fixing things around the house, and this little problem we had was no different.  He did some research and determined all we needed was a 1/2 rounded threshold bar.  We (read he) could easily install this fix without having to hire anyone!
This fix required us to purchase a few things.  Here's what we purchased:
For under $25 we got everything we need and using Amazon Prime it arrived in two days.  It took about an hour to measure, cut, level and seal the bar in the shower door threshold.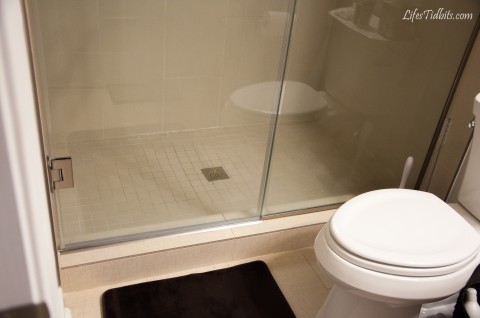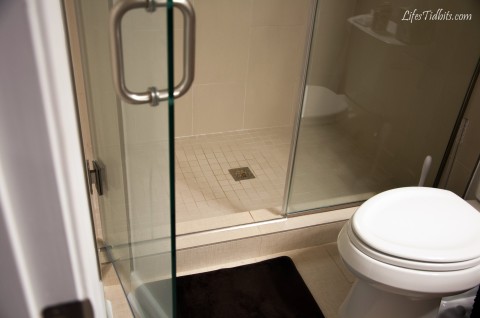 The new threshold is doing its job perfect!  No more water leaking out all over the bathroom floor or soaking the bathroom mat!!
Happy Home Improvement!
If you like this post, please leave your tidbit by commenting below!