It was just a few short weeks after moving into our new condo that I fell in love with efla storage.  If you remember we expanded the pantry by installing some baskets on the back of the door.  We had been toying with the idea of doing something similar on the back of the laundry closet door, but just haven't gotten around to it.  The dryer sheets, Shout and detergent just sit on the floor in front of the washer/dryer units or the AC unit, which share a closet.  I'm in no way saying bending over to pick up the items needed is beyond my physical capability, but honestly it's just annoying to have them down there.
On Sunday we made a trip to the Container Store and LUCKY for us there is a sale on elfa products going on!  It was all the justification we needed to purchase storage for the laundry closet.  One of the sales reps was kind enough to walk around with us and make a number of suggestions.  Unfortunately many of the products just wouldn't work for us … our laundry area isn't big enough.  We are fortunate to live in the city and have a w/d in the unit!
In the end we ended up with the same product as we had purchased for our pantry.  The one exception being the sale rep suggested we get a media rack to hold our detergent.  This was an excellent call!  The media rack is just wide enough to actually fit the Costco size detergent I always insist on purchasing. =)
What we purchased:
First we held the mounting bar up and marked where the holes were.  Then we double checked it was level.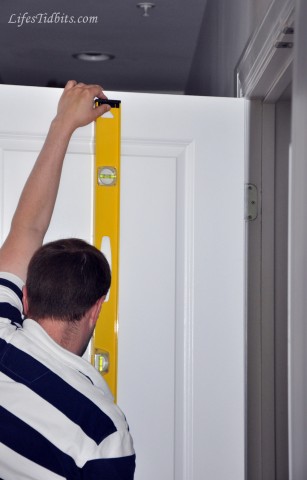 Next the husband drilled starter holes for the top and bottom of the bar, attached the screws and then ensured it was level again.  Then we made "starter" holes for the rest of the screws.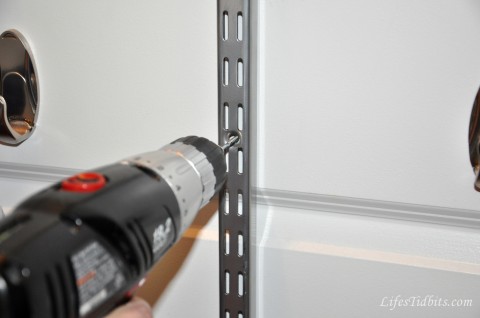 With the bar installed all we had to do was slip on the baskets and the project was complete!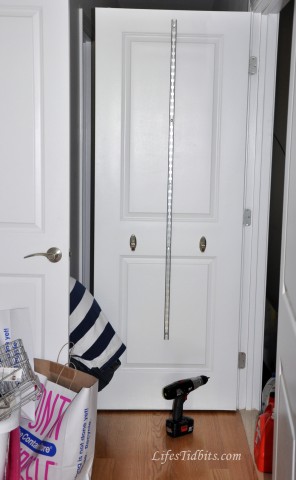 Now we have a one-stop-shop for all thing laundry related.  There is even a bit of space on the bottom two racks for storing additional things.  I'm sure it won't take me long to find something to put there LOL.  Maybe the cleaning supplies we use the most … actually that would probably be perfect.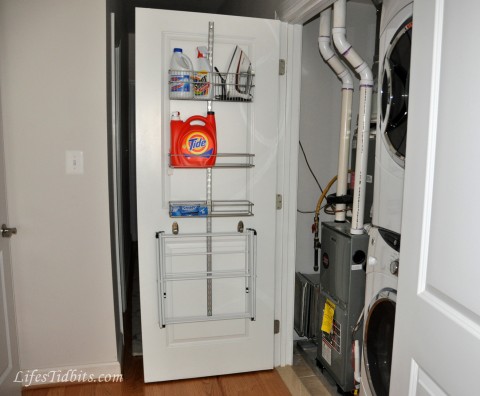 I'm loving the change and decided to do a load of laundry just to take advantage of the new storage — yes I know I am a dork.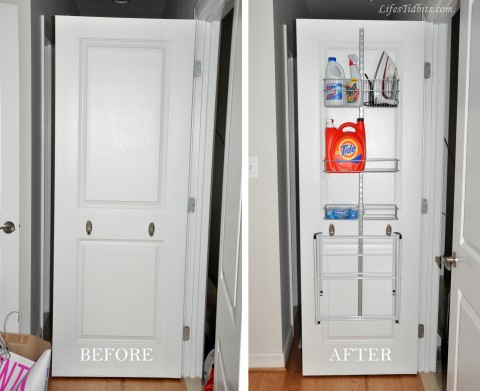 Happy Home Improvements!!
If you enjoyed this post, please add your tidbit by commenting below.  Don't forget you can follow us on Pinterest, Instagram, Facebook and Twitter.