While wedding planning I found a blog on Weddingbee about photo-sharing.  The idea is guests upload their personal photos from the evening and it's shared with everyone who attended the wedding.  Since I am absolutely obsessed with pictures, I figured this was a must have for our wedding.
I initially planned on creating the business card (using VistaPrints) as the blog describes and placing one on each person's table with the menu card.   Then I could use the extras as reminders in the thank you cards.  However they came back with a TYPO (total fail on my part) so they went into the trash.  In the end I decided to make the escort card and photo-sharing card one in the same.
Check them out: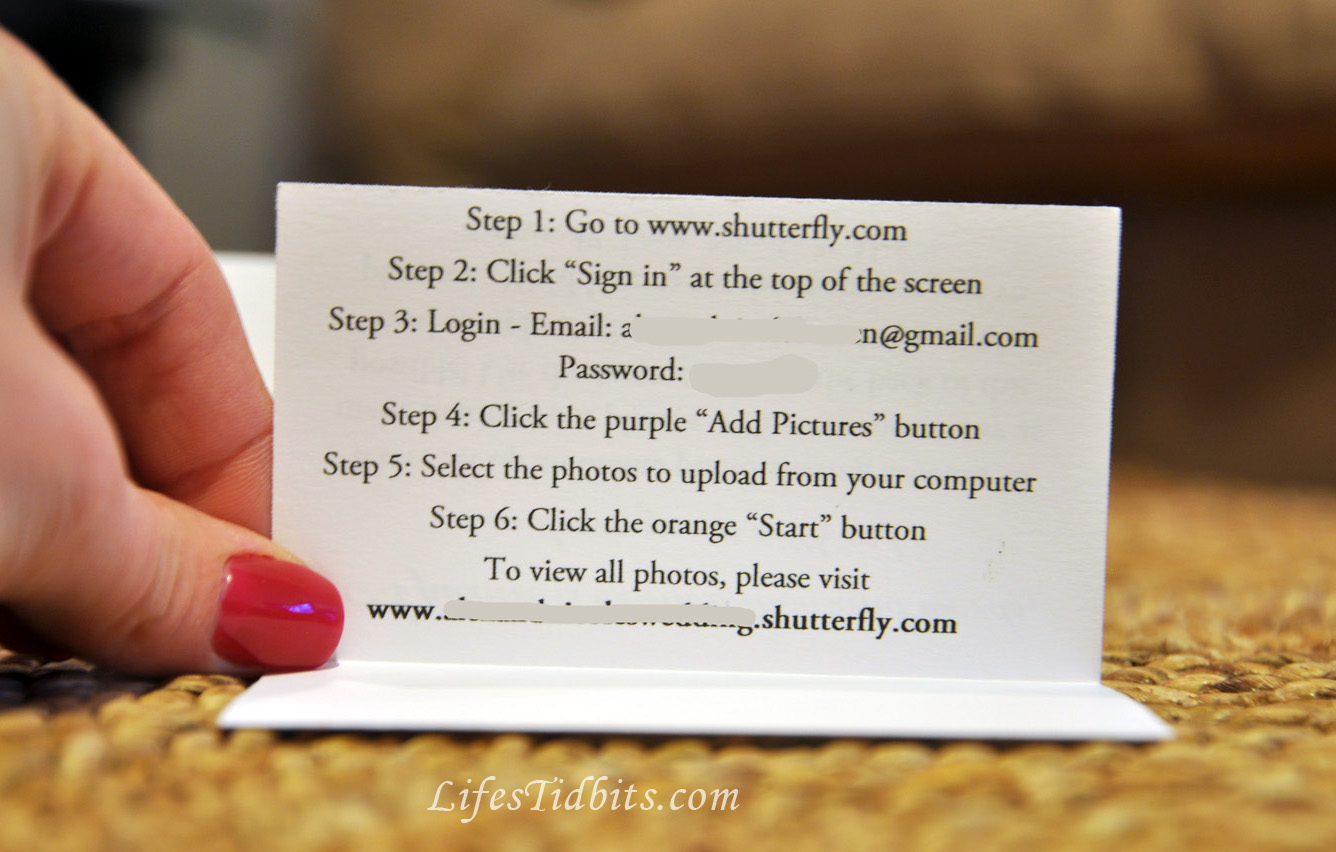 I purchased Avery Small Tent Cards, 2 x 3.5 Inches and downloaded the free template on Avery.com.  Although figuring out how to feed the paper through the printer so everything was facing the right way proved to be difficult the end result was exactly what I wanted!
I used the filigree images from our wedding invitations (also DIY) and the calligraphy font (which we downloaded for free) initially for the envelopes.  Reusing details from our other paper wedding products made the escort cards match the other paper items.
Cost: Avery Small Tent Cards ~$18 (plus cost of ink for printer) … pretty cheap if you ask me!
A couple of tips:
SPELL CHECK, spell check and have someone else spell check it too!
use regular paper white paper and print in gray scale for test pages.
mark which way the paper should be fed for each section very clearly.
set your printer to "high" quality instead of standard.  although this uses up more ink the difference, in my opinion, it totally worth it.
buy a bigger pack of escort cards then you think you will need.  inevitably you will have to reprint a couple for whatever reason:)
Here's how the cards looked all set up and ready to go:
Photo Credit: Korie Lynn Photography
Photo Credit: Korie Lynn Photography
Happy DIY!