Get it?  Nooks and crannies?  Yeah, I know, I am horrible at blog titles!  After finally getting around to purchasing and hanging the sunset canvas wrap it was time to finish up the nook in our dining/living room area.  When the 10% coupon from Crate & Barrel arrived in the mail I could barely wait for the husband to get home from work and to give sign off on purchasing the sideboard.  The sideboard (aka a china cabinet or buffet) completes our dining set, which previously included a dining room table (with leaf, which come in handy!) as well as a wine rack.  The sideboard not only completes our set, but also gives us extra storage for all our serving platters/bowls/dishes/etc.
BEFORE:
Doesn't the nook look sad with just that little end table?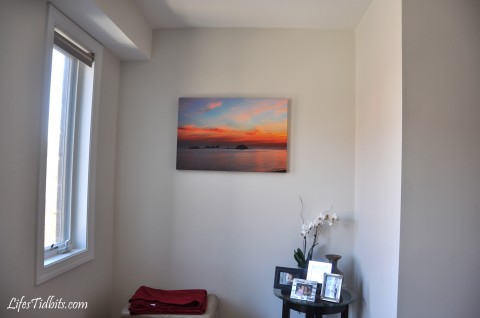 AFTER:
Now the space looks appropriately filled.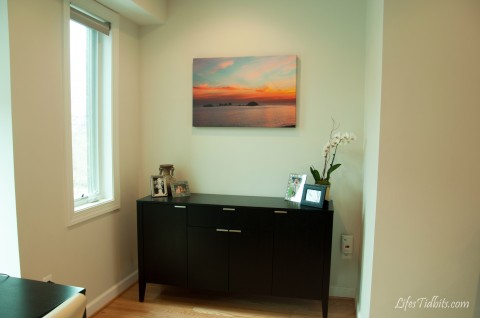 And a vertical shot of the space ….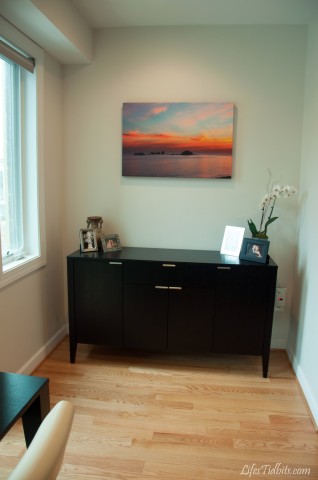 This sideboard totally makes our condo look like real adults live here.  AND we had the perfect number of picture frames to place on the sideboard so no additional purchases were necessary.
Happy Decorating!!
If you enjoyed this post, please add your tidbit by commenting below.  Don't forget you can follow us on Pinterest, Instagram, Facebook and Twitter.