Long before we found out Jellybean's gender I started pinning ideas for the baby's nursery.  It started off being both boy and girl room ideas.  If Jelly had been a boy we probably would have gone with a nautical themed nursery.  One of the very first things I fell in love with was a mint green french/vintage dresser (below).  It didn't take long before I had pinned a variety of dressers all with the same feel, but in a number of different colors and details.  The more dressers I found, the more I feel in love.  Who needs to find the perfect crib … when swooning over the perfect dresser!  LOL.
Here is my mood board and inspiration for a vintage / french dresser: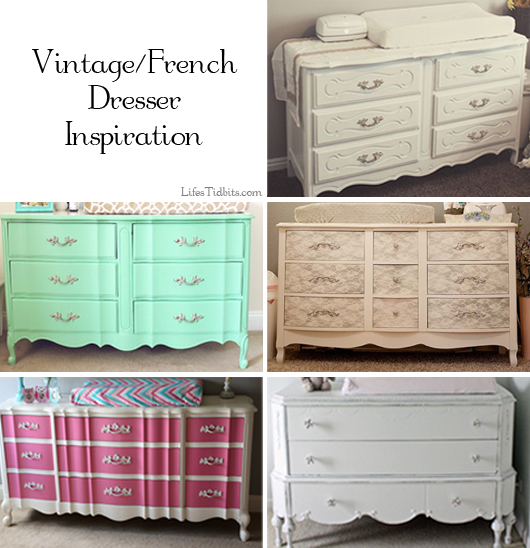 All found via Pinterest – On to Baby / Source / South County A to Z / Mama Say What / Blogs Baby Center
From Pinterest I clicked through to a number of different blogs and read about their nursery decorating decision AND, most importantly for me at the time, where they found the vintage dresser enter … Craigslist.  Ugh, while I love Craigslist it is sometimes like trying to find a needle in a haystack.  Luckily we have/had time on our side.  Once or twice a week I would search vintage dresser, french dresser and shabby chic dresser on Craigslist.  There were always at least a few good options available.  It was hard to find the perfect combination of affordable price, not too far a drive from DC and the condition of the dresser.
After my 24 week doctor's appointment my sister and I started doing some serious online browsing for the nursery.  We were discussing color, overall vision and style of the room.  While we chatted I browsed Craigslist for a dresser … and BAM the perfect dresser appeared.  It was exactly like the mint green dresser (above) I originally fell in love with, but in white … PLUS a  BONUS … a nightstand with the same vintage/french look was also for sale.
The next day we drove out to take a look at both pieces.  Though originally we hadn't planned on purchasing a nightstand, the husband and I couldn't pass it up.  We scooped up both pieces of furniture and two days later they were delivered to our place.  Yay for a delivery option.  Made life SO much easier.
It is so exciting to have furniture purchased for our little girl's room.  It makes this whole "we are having a baby" thing that much more real!!  Dresser, nightstand … check and check.  Back to tackling the crib I suppose.  :)
What was the first piece of furniture you purchased for your baby's nursery?  Where did you get your dresser from?
Happy Decorating!
If you enjoyed this post, please add your tidbit by commenting below.  Don't forget you can follow us on Pinterest, Instagram, Facebook and Twitter.