I've been on a bit of a buying binge.  For the most part they been pretty "small" thing, but they make SUCH a difference around the house.  The new tidbits are great additions to the condo decor and only make me want to buy more details for the house.  The husband has been joking that he might have to take the credit card away if I keep this up LOL.  All joking aside he has completely agreed with all my most recent purchases.
The library table (as the husband calls it) from his bachelor days is definitely on its last leg.  This side table has held up well and successfully made it through three or four moves.  The table has a number of sharpie pen "paint touch ups" and kind of rocks if you even slightly touch it.
Around Christmas time I was browsing Overstock.com and came upon a black table I thought would be the perfect replacement.  With my 10% off coupon in hand I convinced the husband we "needed" the table.  Like so many other pieces of furniture we own it came dissembled and the husband was responsible for putting together our new table.  It didn't take him too long despite assembling the legs backwards on his first attempt. :)
The next day I went ahead and took some after pictures.  I really like the curves and character of the new table.  The fact that it doesn't shake when I pick up the photo album is a bonus hahaha!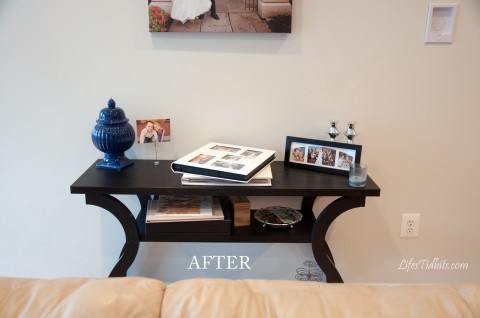 The new table also has an extra level of storage at the bottom.  The only problem with that shelf is it seems to collect dust and dog hair. Maybe that means I need to vacuum more … hmmmm ;)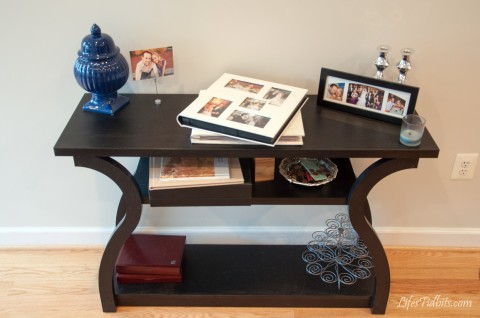 Have you done any impulsing buying lately for your place?
Happy Decorating!
If you enjoyed this post, please add your tidbit by commenting below.  Don't forget you can follow us on Pinterest, Instagram, Facebook and Twitter.