Today, let's chat rocking chairs slash gliders for the nursery.  For someone who get motion sick ALL the time (cars, planes, boats), it's a little weird, but I love chairs that rock/move.  The husband and I discussed purchasing a chair for the nursery pretty early on.  I spent a lot of time looking at chairs online and trying to determine which would be best.  While online shopping is great and I'm a huge fan of not having to leave the house to make a purchase, there are somethings – like chairs – where it is just SO much easier to shop for in person.
My in-laws were in town visiting a couple weekends ago and offered to go crib shopping with us.  For someone who prides themselves on being a planner and getting things done ahead of time I've been a complete slacker/procrastinator on the nursery purchasing front!  I hang my head in shame as I admit … there is a VERY good chance the crib won't be here by Jellybean's due date.  At least I know she will be in the bassinet for a few weeks, which makes me feel a little less guilty.  Anyways, while we were out looking at cribs the husband and I took the opportunity to check out chairs for the nursery as well.
It was great to sit in the chairs and figure out what we were really looking for.  There are just SO many options: glider, recliner/glider, rocker, etc. it was honestly a bit overwhelming.  The husband and I knew we wanted a chair for the nursery that would look good if moved to another room, like the living room or tv room, in a few years.
Here is my nursery chair inspiration board: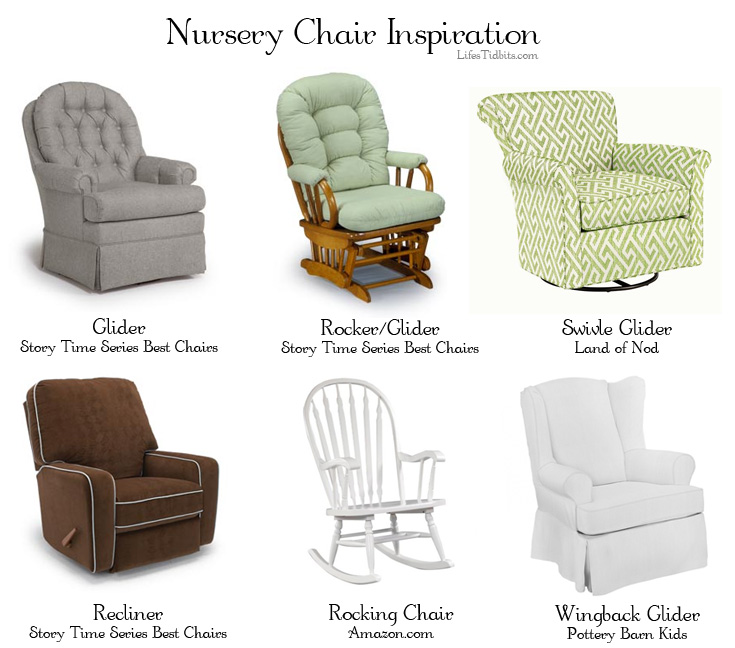 Glider Story Time / Rocker & Glider Story Time / Swivle Glider Land of Nod
Recliner Story Time / Rocking Chair Amazon.com / Wingback Glider Pottery Barn Kids
Regardless of which chair we purchased an ottoman was a must have.  I love elevating my feet, plus I've heard when you are feeding late at night being able to put your feet up is ideal.  I was kind of partial to the glider/recliner/ottoman combo options, however in the end the hubby and I decided upon a simple glider with matching ottoman.  While at the store I went through the fabric book a couple of times making note of potential options.  My MIL and husband gave their input and we slowly started narrowing it down.  The store owner was hilarious when it came to choosing a fabric.  He told me "Don't be shy.  Order as many swatches as you want … I do a lot of business with this company."  With that we ordered a couple gray, white and cream sample fabrics.  Last week the fabrics arrived and we finally made a decision to go with one of the medium-dark gray fabrics!!
The chair is our second big purchase for the nursery!  It feels like we are finally making progress on the baby's room and we are just 9 weeks away from her bid debut (hopefully).  Just like with the dresser, I think I will wait until the "big" Jellybean nursery reveal post to show you exactly which chair/color we chose. =)
Did you purchase a chair for your nursery?  If so was it nice to have and what type of chair did you get?
If you enjoyed this post, please add your tidbit by commenting below.  Don't forget you can follow us on Pinterest, Instagram, Facebook and Twitter.