More often than not I am rushing around the house in the morning getting ready for work.  The morning routine includes all the normal things one normally does plus walking the dog and making lunches for me and the hubby.  Despite being in the kitchen doing the lunches I often forget to take meat out of the freezer and put it in the refrigerator.  Does that ever happen to you?  Forget to take the chicken, beef, pork or fish out of the freezer to properly prepare for dinner that evening?  Since I make this mistake often I will sometimes go to the store on the way home from work and purchase what I need.  Other times I get home and slap the meat on the counter and pray it defrosts quickly so I won't have to nuke it.  For some reason defrosting in the microwave seems to always "pre"cook the meat, which I don't find appealing.
Recently my mother-in-law taught me a great tip for defrosting meat quickly …. place the meat on a metal cookie sheet.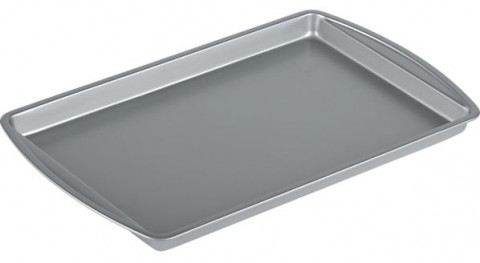 I'm not really sure why this works, but it does so I'm not going to fight it!  Next time you forget to take dinner out of the freezer in the morning to thaw go ahead and slap it on a metal sheet pan.  Wait a little while and flip the meat.  The quick defrosting time will definitely not disappoint.  What's your tip for defrosting meat quickly?
Happy Cooking!
If you enjoyed this post, please add your tidbit by commenting below.  Don't forget you can follow us on Pinterest, Instagram, Facebook and Twitter.