While the pregnancy series has come to a close the baby series is just beginning!  I must admit there is a small portion of me that misses blogging about being pregnant.  That being said I might have a few "reflection" posts in my back pocket should the mood strike.  In any event, it has been a WHOLE month since Jellybean made her grand entrance.
I am not sure where the past 4 weeks have gone.  The days seem to fly by.  I'm not really sure what, if anything, I actually do all day.  My day revolves around feedings, diaper changes, soothing and trying to get baby girl to sleep.  There is no routine to speak of, yet.  I am looking forward to getting Jellybean (and myself) on a routine, however her eating "on demand" doesn't lend itself well to a schedule.  We will get there eventually … as the pediatrician told me there is no need or rush to get her on a set schedule at this point.
On her one month birthday we did a little photo shoot to document the occasion.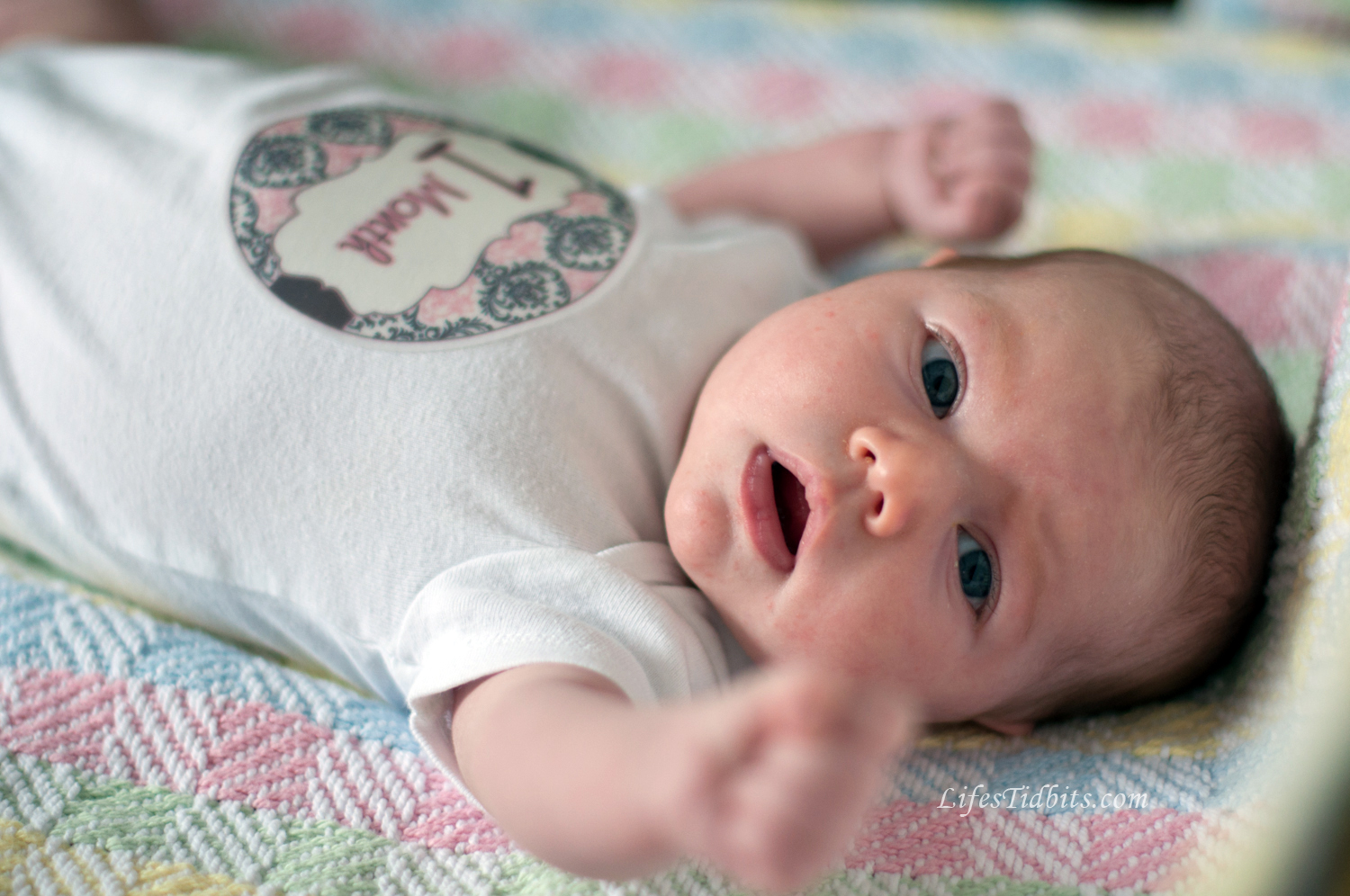 Love how her fist is reaching for the camera!
A few tidbits about the first month …
Sleep
Not consistently :)  Jellybean is sleeping anywhere from 2 to 4 hours during the night (9pm to 8am).  I'm unable to identify what factors influence how many hours she sleeps for, but I very much appreciate the 4 hour stints!
Eating
At this point we are exclusively breastfeeding.  She eats every 1.5 to 2.5 during the day.  We have had a few days when we think she had a growth spurt and all she wanted to do was eat every 45 minutes to an hour.  It was very exhausting!
Wearing
Much to my surprise she is still in newborn diapers.  After a couple of diaper blowouts we tried upping her to size 1, however they were just way too big on her so we went back to the newborn size.  Despite being told countless times by other moms I'm completely shocked at pure number of diapers we go through each week!!
Jellybean is currently wearing newborn and size 0-3 month clothing.  It was only the past couple days where she wasn't swimming in her 0-3 month clothes.  The newborn clothes are starting to get a little small so we will be transitioning to all 0-3 month clothes soon I expect.
Milestones / Random Tidbits
Jellybean can already lift her head … she's so strong for such a little person!  Though it looks like she has control over her head for a few second she then looses it and her head comes crashing down onto my chest.  Despite her ability to lift her head tummy time only lasts a minute or two before she gets agitated.
Jellybean is also incredibly alert.  She's drawn to bright light and often stares intensely at something for a good amount of time.  Now what she's actually looking at (unless it is directly at me) is sometimes hard to tell.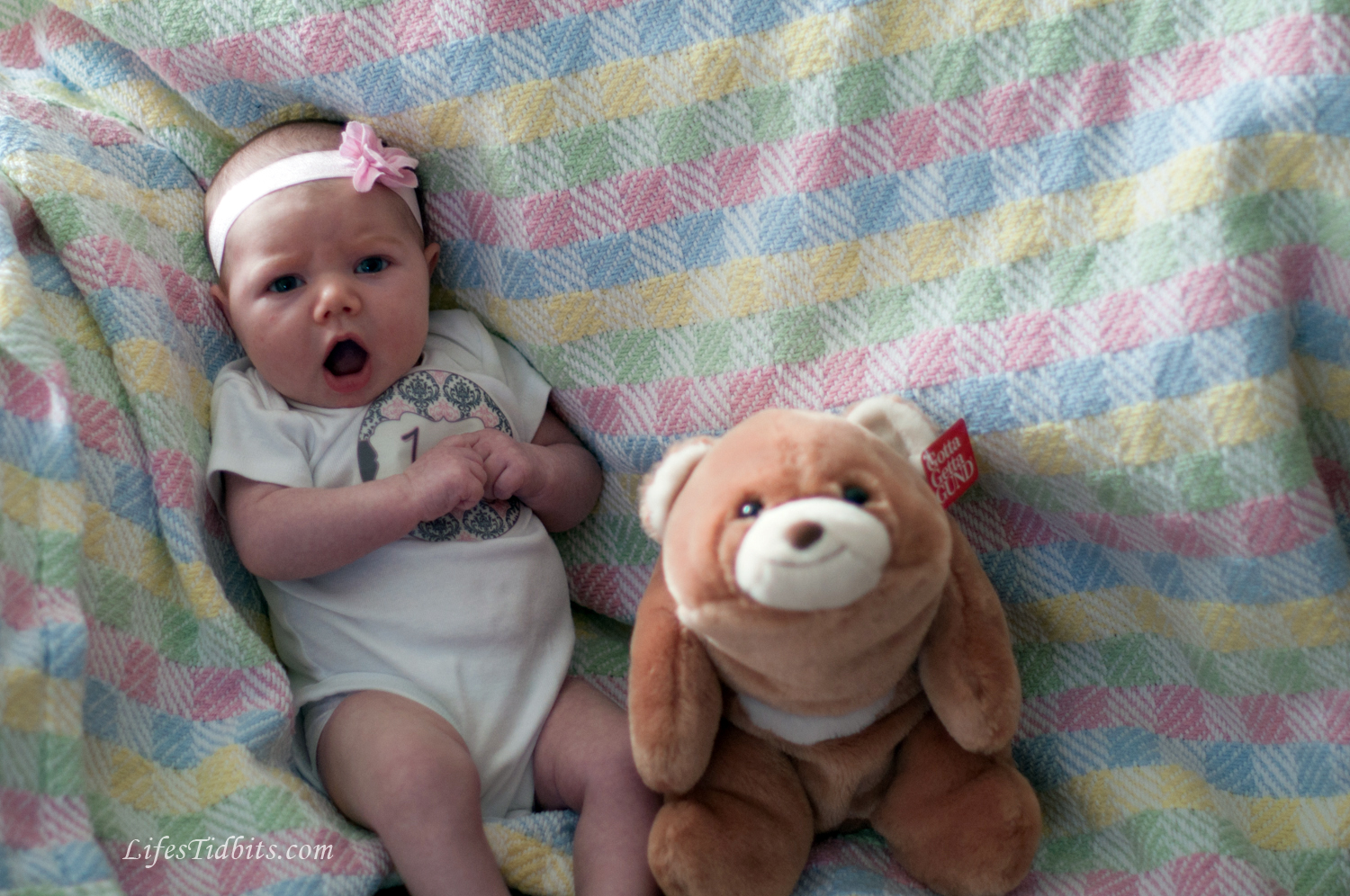 Those are two of my favorite pictures from her one month photo shoot!  I would love to know what she is thinking in the second picture.  She's almost like "are you done yet mom? I know I'm cute, but let's get this over with already."  Hahaha.
What was your favorite tidbit from your baby's first month?
If you enjoyed this post, please add your tidbit by commenting below.  Don't forget you can follow us on Pinterest, Instagram, Facebook and Twitter.