In an effort to continue exploring Bangkok and taking advantage of our time abroad we decided to check out the Jim Thompson House and Museum a few weekends ago.  I found it in one of the travel books we have for Bangkok we have and hoped it would be fairly toddler friendly.  It's probably worth nothing Jim Thompson House is #7 on the TripAdvisors list of 'Things To Do' in Bangkok.
Side note – why is the BTS Skytrain #2 on TripAdvisor?  I mean sure it's a convenient way to get around, but I wouldn't recommend visitors go on the BTS just for the sake of going on the BTS.  Okay … stepping off soap box.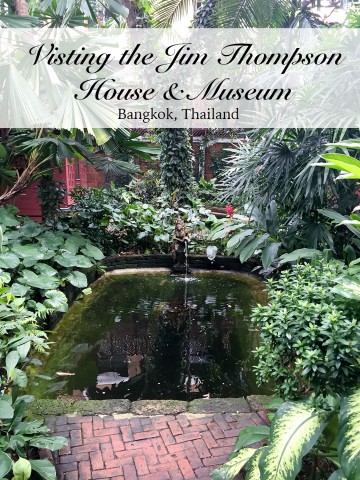 The guided tour provided a lot of details about Jim Thompson who was an American and moved to Thailand after WW2.  He was known not only for his silk business, but his antique collection.  Touring his house, seeing the antiques he collected and learning more about Thai culture was really interesting and definitely worth the trip.  It was kind of kid friendly, but the hubby missed out on part of the house tour because Jellybean wanted to see the fish.  Mor' fish, mor' fish she shrieked. :)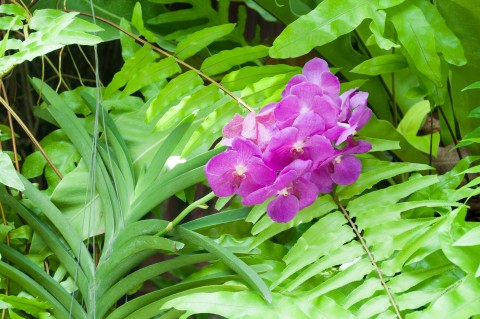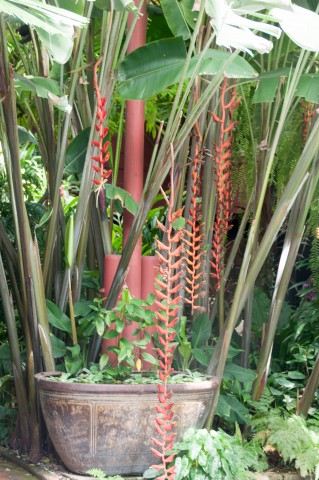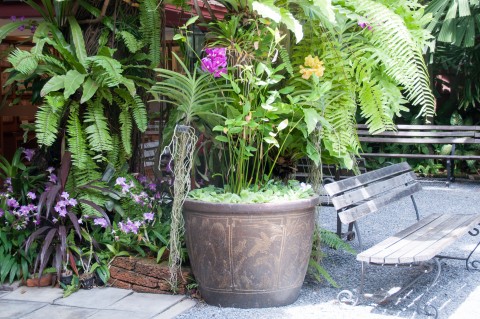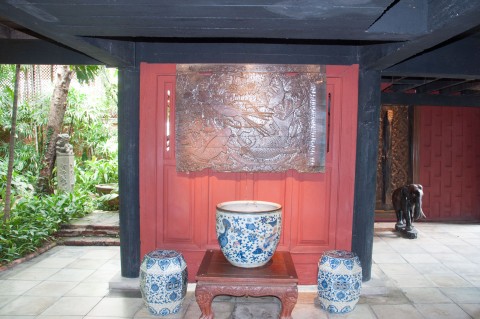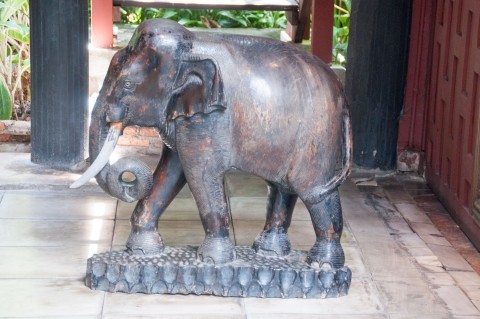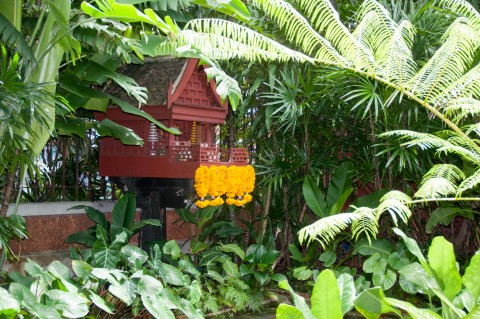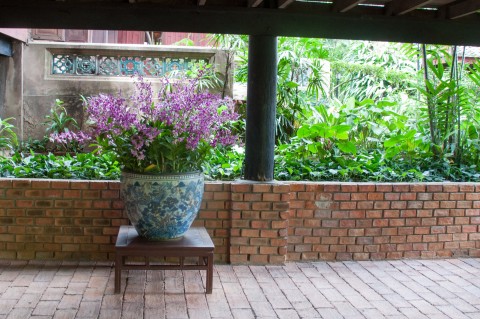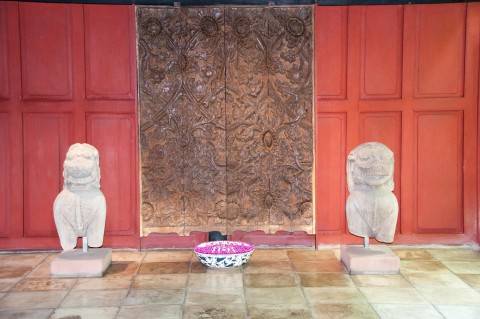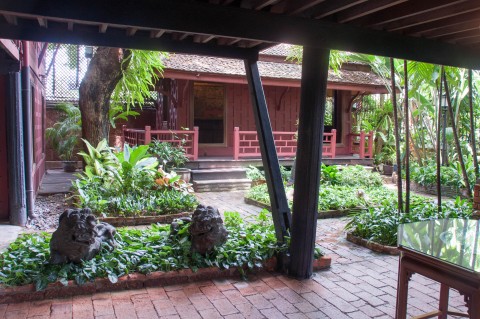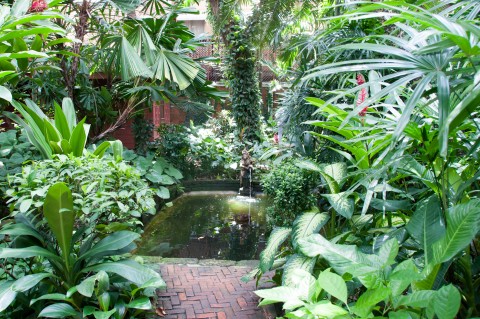 After the tour and snapping some photos we made our way to the restaurant.  There was a beautiful koi fish pound next to where we ate.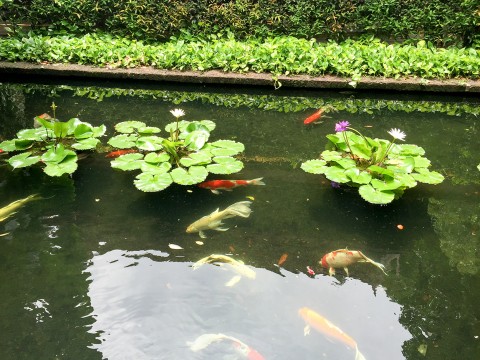 The hubby and I celebrated the successful sightseeing trip with a beer.  It came with phet (Thai for spicy) peanuts.  The perfect little snack to compliment a nice cold beer!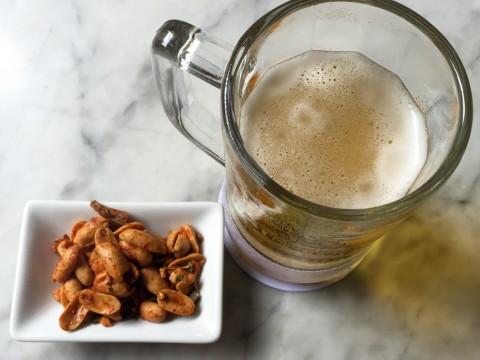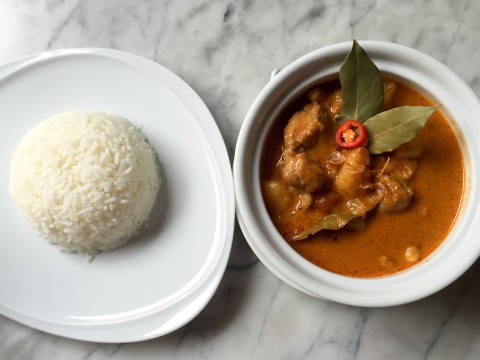 Seriously delicious coconut ice cream.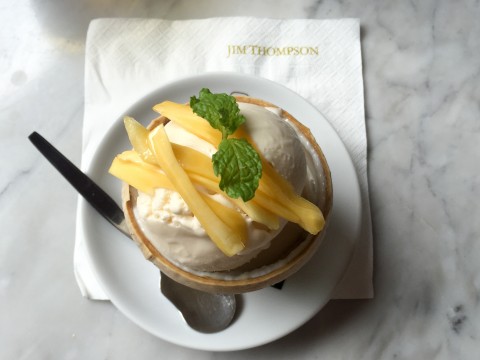 A few Tidbits for Visiting the Jim Thompson House and Museum:
It is located within walking distance of the National Stadium BTS station.  DO NOT let a Tuk Tuk convince you a ride is required as you leave the skytrain.
Admission is 150 BHT per person (bring cash)
As part of the admission fee guided informational tours are provided (in multiple languages) and last about 30 minutes.
For more information visit the Jim Thompson House website.
Have you been to the Jim Thompson House?  If you have any recommendations on where we should visit, eat, etc?? I am open to hearing any and all suggestions (even if it's outside of Bangkok … we do plan to do some traveling around Thailand)!!