A few weekends ago the family took in the sights and went to Wat Pho for the morning.  It was beautiful and truly felt good to finally 'see the sights'.  The best part was I didn't feel rushed or forced to see everything all at once.  When we couldn't take the heat anymore we stopped had lunch and headed home.  It was SO nice to know we can always go back … we have 2 years (or really t-minus 22 months)!
We took the BTS (which I can't stop calling the Metro – thanks DC!) down to the Chao Phraya River and then took a boat up the river to the stop closest to Wat Pho.  Next time I would have taken the smaller boat (see picture below) instead of the big touristy passenger boat, but we weren't really paying attention and bought tickets to the first place we stumbled upon.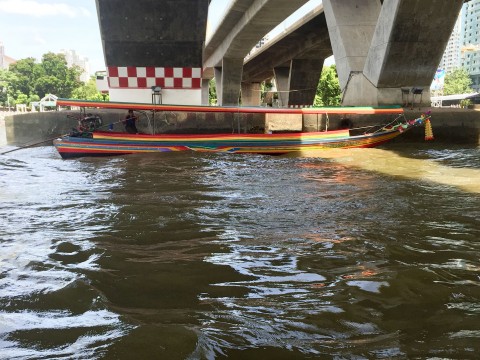 Less than a 10 minute walk later we arrived at Wat Pho.  It was HOT, which shouldn't be a surprise anymore!  Admission was 100 BHT per person and you must have exact change.  We just happen to have exact change, but I was definitely surprised by the requirement.  We wandered around for a bit and took some pictures along the way …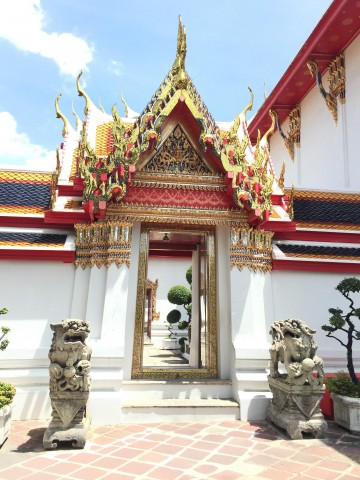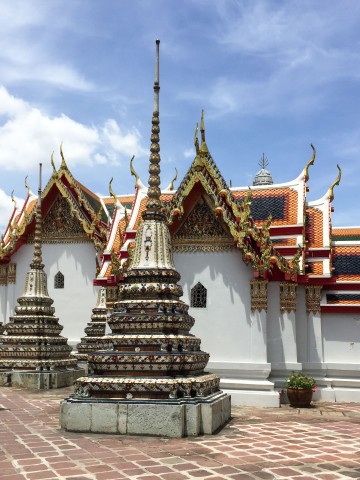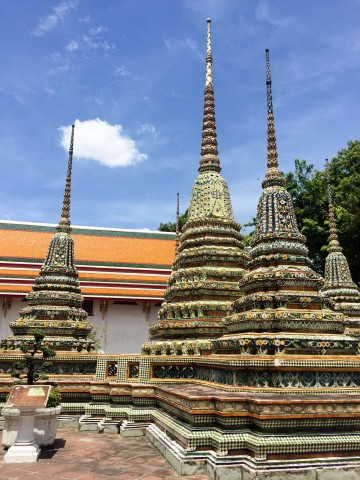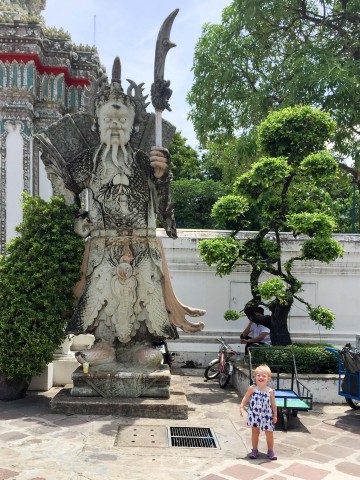 As I've mentioned before, Jellybean is a bit of a celebrity around these parts and as we walked around her photo was snapped many (many!) times.  The most interesting was when we were visiting one of the Buddha's, pictured below, a young man asked to take a picture of her.  My husband graciously agreed at which point the man's iPhone was aggressively pushed in the hubby's face.  Faster than either of us could comprehend what was happening the man gently grabbed Jellybean, plopped her on his lap and smiled for the camera!  I couldn't help it and started to chuckle.  The husband gave me the side eye to stop it.  I couldn't help, but smile back.  I don't think I will ever get used to people we don't know taking Jellybean's picture (with or without our consent).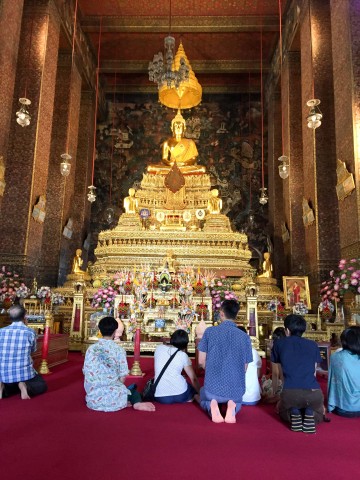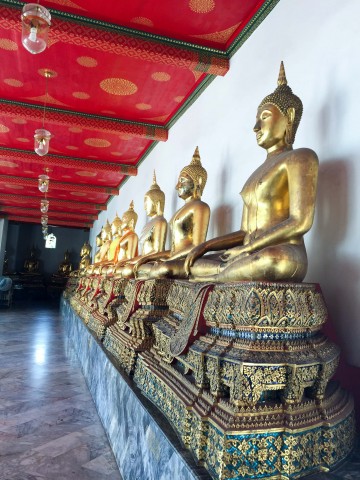 The last thing we saw was the Reclining Buddha.  It was truly amazing.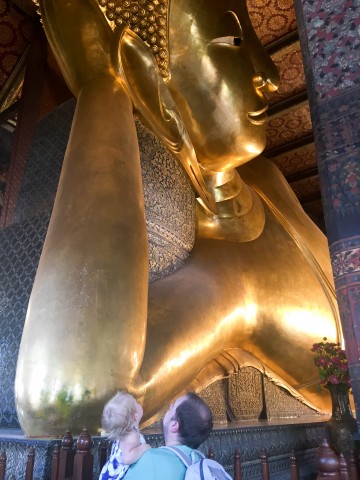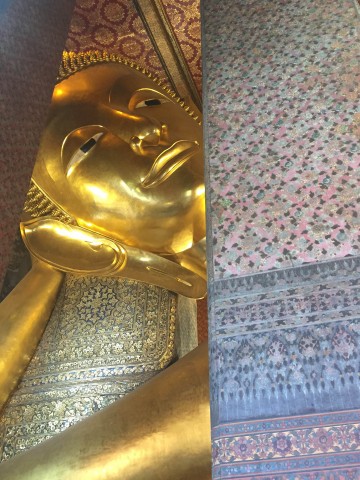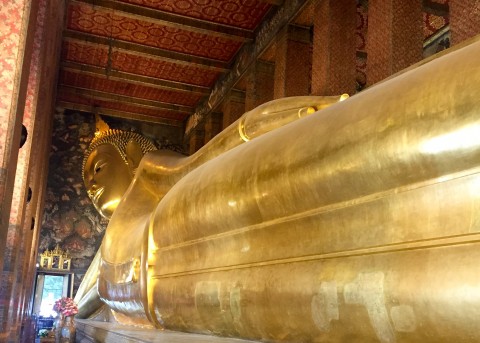 A few tips when visiting Wat Pho …
Bring exact change for entrance fee – 100 BHT (mentioned above)
Wear comfortable shoes, but if they easily slip on/off easily that's for the best.  You can have to remove your shoes to visiting many of the Buddha's so it will make things a little easier.
You must cover your shoulders and knees to visit the Reclining Buddha and some of the other Buddhas in the area as well.  There are skirts, robes and scarves available to wear while visiting specific temples, which is very useful.  If you are apposed to wearing the provided clothing I definitely recommend wearing short-sleeves and pants/skirt/dress that covers your knees.
Bring a bottle of water!  Near the Reclining Buddha you can redeem your entrance tickets for a bottle of cold water, however we were thirsty and hot while walking around.  I was glad we had water on hand prior to the seeing the Reclining Buddha.
Have you been to Wat Pho?