It's Friday!  I'm off to Krabi for the weekend with the family.  We are meeting my sister-from-another-mother and her husband there.  This is the longest I think we've ever gone without seeing each other (nearly 9 months) and I just can't wait to see her face in person.  FaceTime is a fabulous thing, but the real deal is just that much better.
So for this week's favorites we have, drum role please…
Despite my best of intentions I still haven't finished my post on our trip to Chiang Rai.  We went to Chiang Rai in December … fail!  While working on the post this week I came across the photo below of The White Temple aka Wat Rong Khun.  This photo is absolutely one of my top 5 favorite photos I've taken since arriving in Thailand.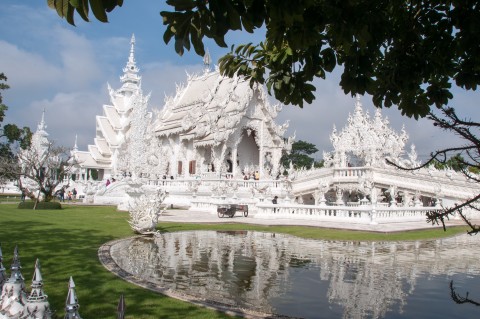 About a month ago I went into Sephora to buy my go to under eye concealer. While browsing, a sales consultant informed me Benefit's erase paste was much better than what I was using.  Though I was skeptical I allowed her to show me, and boy was I NOT disappointed.  Love this stuff!  Bye bye dark circles!
When I was in Koh Samui the other weekend my friend was rocking this sun hat.  I recently ordered it in pink, because Amazon doesn't carry black anymore (pout!).  Either way she and I will now be twinsies next time we go to the beach together.
I don't think I would do it, but could you give up TV for a month (or maybe more) and change your life?  And, while we are on the topic of television the husband and I have been devouring the latest season of 'The Americans'. I'm super excited to see new episodes of 'Casual' are now available on Hulu.  What shows are you loving right now?
This article on give some useful advice about talking to your child about consent.  I really like how the author breaks it down by age group.
I'm guessing you've already seen this video on Facebook, but if not … United States of WOMEN!  Girl power, girl power!!! Enthusiastic fist pump (or insert emoji here)!
My favorite skinny jeans are currently on sale.  I'm pondering purchasing a new pair as the crotch in the ones I currently have are sure rip any time now.  My current pair of skinny jeans have lasted nearly 5 years!
Any favorites you might recommend?  Currently, I am on the hunt for a portable toilet seat (oh the joys of potty trainings!) as well as a superb homemade granola recipe.  And yes, I totally recognize how opposite ends of the spectrum those items are … all accredited to the mommy brain.
What are your favs this week?