In early June we made our third flight to Krabi.  We had previously been to Koh Lanta and Railay, but this time the plan was to stay in Ao Nang.   We were meeting up with one of my oldest and bestest friends in the world and her husband.  They were traveling around Southeast Asia and planned to stop by Bangkok before their flight home.  But I couldn't wait to see, them so we traveled to Krabi for a long weekend beach vacation.  We all stayed at the Centara Grand Beach Resort & Villas Krabi.
The closest airport to Ao Nang is Krabi.  Taxis from the airport to Ao Nang are a flat rate of 600 baht and the drive takes about 40 minutes.  Hotels often offer a pick up service, but in my experience the price point is much higher.  It is usually best to secure a taxi once you've arrived at the airport.  We also coordinated a pickup from the same taxi driver to take us back to the airport a few days later.  The taxi drive agreed to a slightly discounted rate of 500 baht on the way back.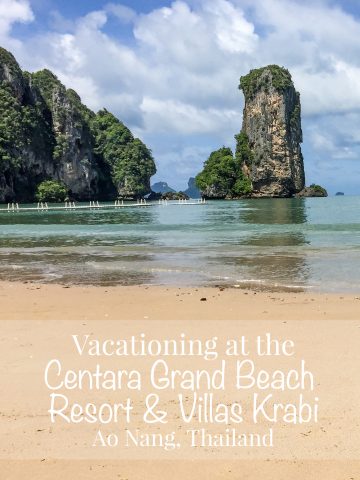 The Centara Grand Beach Resort can be accessed two ways: 1) by a 'monkey trail' which is a wooden pathway that leads you up and over the edge of the mountain to Ao Nang Beach. 2) by boat to the hotel's private dock.  The hotel provides a free shuttle boat that runs from morning until late at night.  A reservation to ride the boat is required so planning ahead is essential.
Since we went during low season, the free shuttle boat wasn't running very often and therefore the boat was crowded.  People were pushing their way forward as the boat approached to secure a seat, as many appeared nervous there were more people than seats.  Overall I was unimpressed with the boat service especially when I was informed upon checkin they informed me they were at 90% occupancy.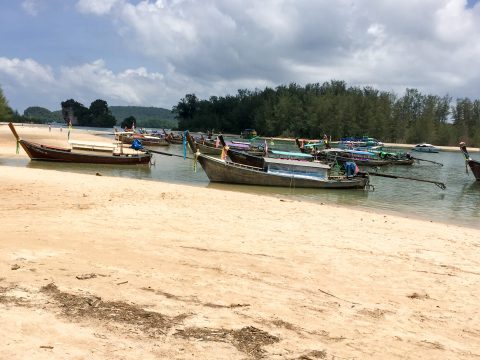 The Centara Grand Beach Resort & Villas Krabi has a private beach and is secluded in its own bay called Pai Plong Bay. The hotel is nestled into a small mountain range in a well-preserved National Park.  A gorgeous resort for a long weekend holiday with friends and family.  The hotel room was stunning and Jellybean immediately made herself at home in the gigantic bed.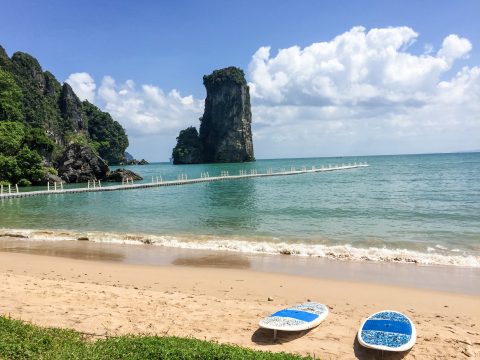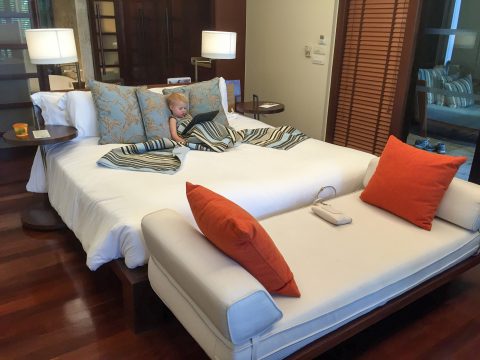 I loved the tranquil, quiet beach and impressive pool located at the Centara Grand.  The food and mixed drinks, especially, left something to be desired.  If we go to the resort again I would definitely BYOB as well as try to venture off the property for dinner.  Downtown can easily be accessed via the Monkey Trail.  Though the monkey trail isn't ideal for those traveling with small kids and toddlers.  I wish we had brought the baby carrier so we could have made the trek out with Jellybean safely on our back.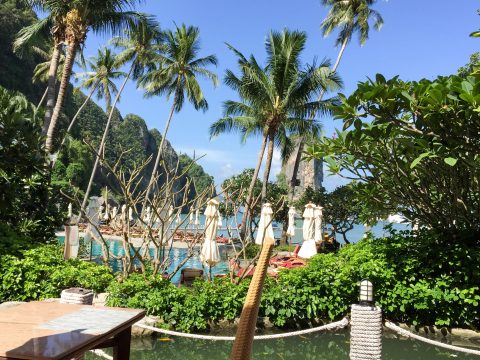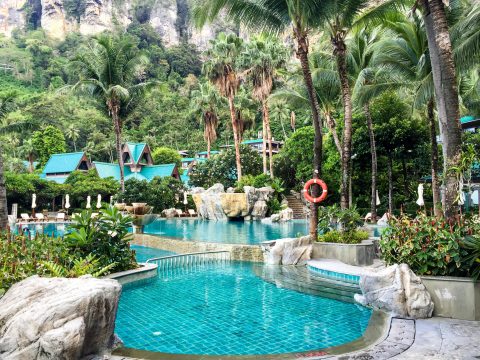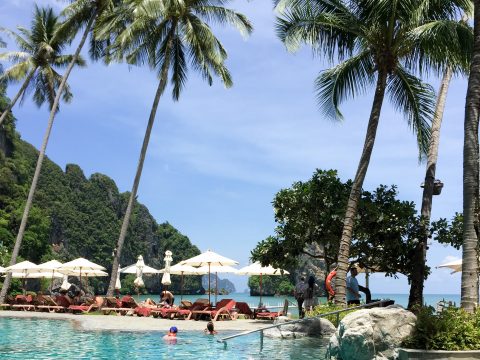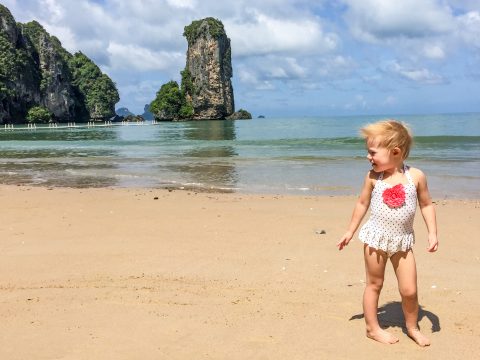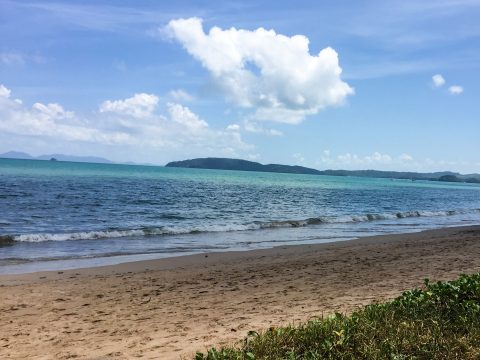 We had a grand time at the Centara Grand Resort in Ao Nang, Krabi.  I definitely recommend this hotel for a peaceful and low key vacation, but if you are looking for someplace with hustle and bustle you will want to stay downtown.