What, what … it's Friday!! Seriously now — TGIF!  The work week has gone by at a steady pace, but I am definitely ready for the long weekend.  We have a fun, but jam packed weekend planned!  
1. Our nanny wasn't able to come into work on Monday so I did a partial work from home day so I could take care of my little Jellybean! I was surprised how 'easy' it was to work while JB slept or played in her jumper. I enjoyed the mix of mommy and project manager 'tasks' throughout the day. It opened my eyes to the possibility that maybe one day (fingers crossed) I can have the best of both worlds – part SAHM and part working mom.
2. I was able to cross a lot of my to dos off the list this week!! Car registration renewal, booking hotels, ordering wedding gifts for friends and more all checked off the list. Feels good to be productive. Next week it's time to tackle doctor and dentist appointments — I hate going to the doctor/dentist so procrastinating is the name of the game.
3. The husband and I decided to take Jellybean for a walk Tuesday night. The walk turned into dinner at Matchbox. The weather was perfect and we were able to grab a table outside. JB spent most of the time happily eating her firefly toy. Towards the end of dinner she decided it was time to get out of that car seat. She sat on my lap and observed everyone around her. The husband took a turn holding her so I could finish eating and she shrieked with glee. Not sure if everyone around us appreciated it, but JB is really starting to use that vocal box! :) I got some super cute photos of my lovelies …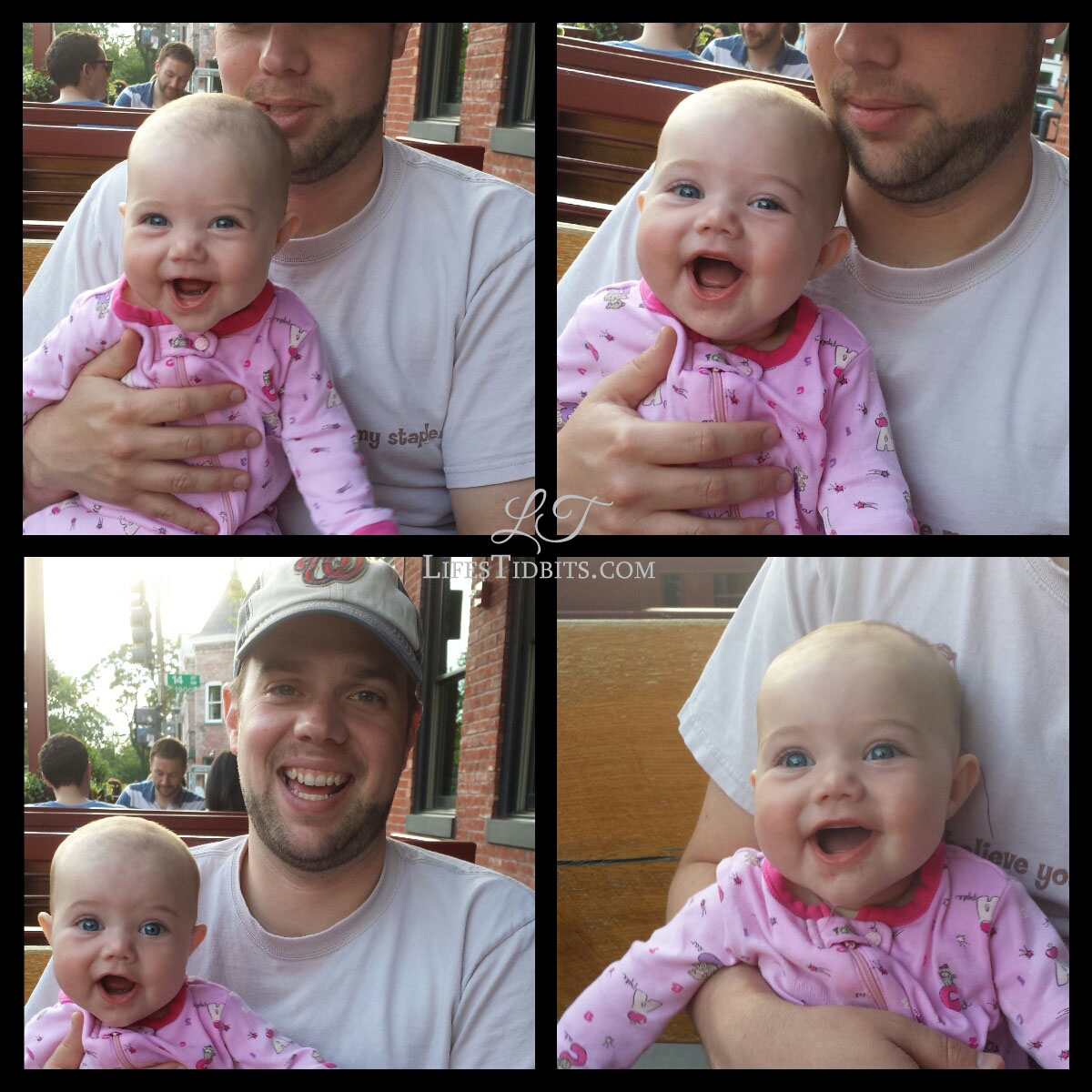 4. Discovered salted caramel at Chopt. Yum!
5. It's date night! The nanny is staying late tonight so the hubby and I can go on a 'date'. I do believe this is will be the 4th time we've gone out alone since our little miss jellybean made her debut. I'm sure all we will do is talk about our adorable daughter, but a little alone time is definitely in order. =)
What's your high 5 moment(s) from this week?
If you enjoyed this post, please add your tidbit by commenting below.  Don't forget you can follow us on Pinterest, Instagram, Facebook and Twitter.