Who's the most excited of them all?!  Oh that would most definitely be me.  As I've shared (here and here) we've been doing some decor updating in the living/dining room as well as the hallway (here and well here too).  I'm not sure if I should qualify this area by the front door as the hallway or the living room, but either way we have a new mirror on the wall!
When we first move into our condo the electrical box was kind of sticking out like a sore thumb.  The dark gray contrast on the painters grade white paint was like BAM as soon as you walked in.  The plan was to find a painting or a mirror at some point to cover the box, however in the mean time we needed to make it less noticeable.  So while we were painting the living room and hallway the electrical box was also painted over.
Before: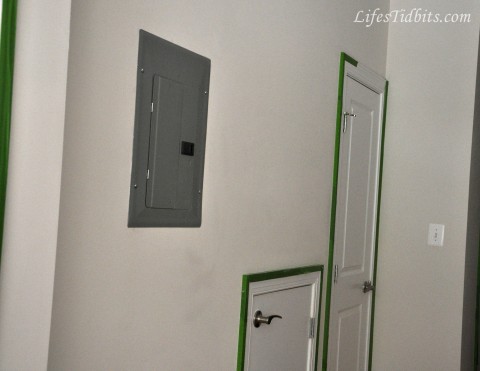 Progress: Added a couple coats of primer on the electrical box.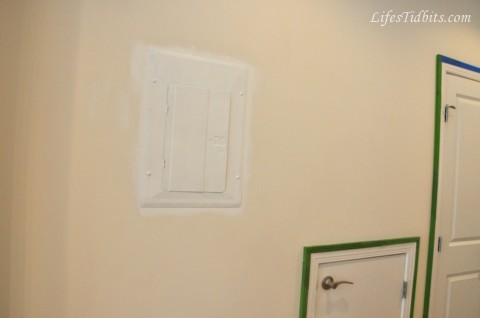 I don't have an after picture of the box painted … I'm a bad blogger, I know (hangs head in shame).  I always peruse the Joss & Main and consider buying all the great items they have.  Then one evening I found the Andretta Wall Mirror, which the husband agreed would be a go to hide the electrical box.  I waited too long and the item was no longer available … bummer!  A couple weeks later I happened upon the mirror again and decided I would purchase it as soon as the husband got home and confirmed he still liked the mirror.
Just a few days later the mirror arrived at our front door. I was shocked at how heavy the mirror was, but managed to carry it up the stairs and into the apartment.  The poor husband had barely walked through the door when I began asking (read nagging) him to hang the mirror.  Being the good natured guy he is out came the tool box and level and within no time the mirror was hanging on the wall.  =)
After: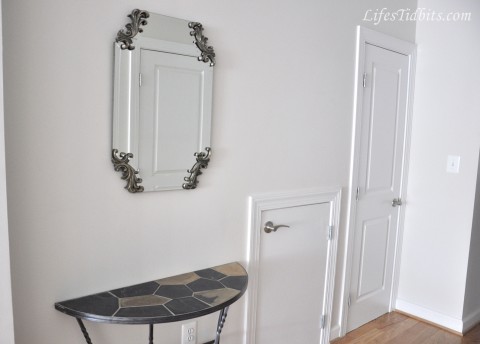 Now I think a new chest/table with drawers for under the new mirror is needed and we will be done with this area of the apartment.  I've had that semicircle table since COLLEGE!  Although it has held up well, it is time for a change/upgrade.  Plus something with storage would come in handy for scarfs, gloves, sunglasses and other stuff of that nature.
For now though I am happy to have the electrical box covered and a mirror to double check my outfit/makeup as I walk out the door! LOL.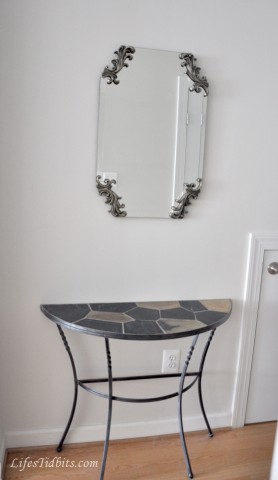 So what do you think of the new mirror?
Happy Decorating!!
If you enjoyed this post, please add your tidbit by commenting below.  Don't forget you can follow us on Pinterest, Instagram, Facebook and Twitter.