After getting the DIY baby shower invites out the next thing to tackle was the menu and the decorations.  The mom-to-be and I have always joked that she is never lacking black and white outfits.  I figured a black and white color scheme would be perfect and wouldn't you know it my friend wore a black and white outfit to her shower without even knowing the color scheme!!!  I guess I know my friend pretty well. =)
The brunch menu came together quickly.  Although there was definitely too many sweets in the end with a good amount of left over, but who doesn't like left over Oreo truffles?!?!  I was pretty pleased with the variety of options for the brunch.  Everyone came hungry so there wasn't a crazy amount of left overs.
Little Man Brunch menu included:
Egg Soufflé
Fruit Platter
Cheese Plate
French Toast Casserole
Turkey Meatballs in red sauce
Cigars (aka chocolate covered pretzels)
Yellow Cupcakes with Chocolate Buttercream Frosting
We kept the party decorations pretty simple.  A bunch of black and white balloons, two flower vases, onesies and then a few little mustache details to bring everything together.
Unless otherwise noted all pictures were taken by Sara from Photos from the Harty.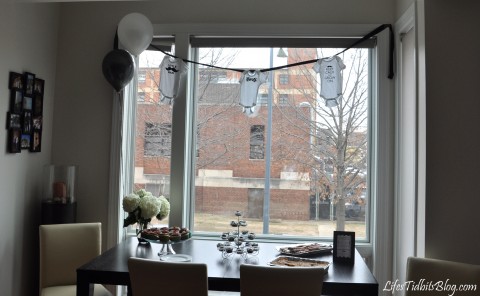 Initially I bought some 3-6 month onsies and quickly realized they are SO tiny the iron-ons wouldn't look so great on them.  I used one 3-6 month onsie for the bow tie (middle) the other two are 12 month onsies.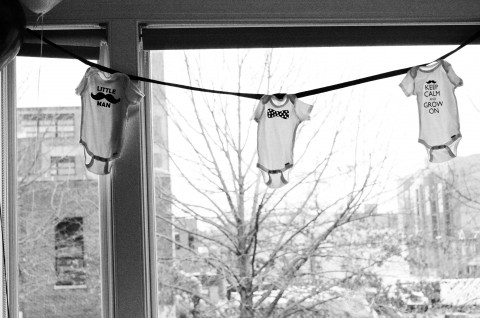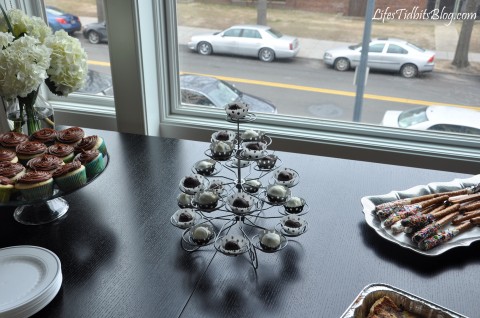 To supplement the balloons, onsies and mustache details there were two hydrangea flower arrangements.  I feel like I somehow involuntarily collect vases so it was easy to find two that were pretty much the same.  Put some white and black decorative stones in the bottom, add water and the flowers … voila a "DIY" center pieces!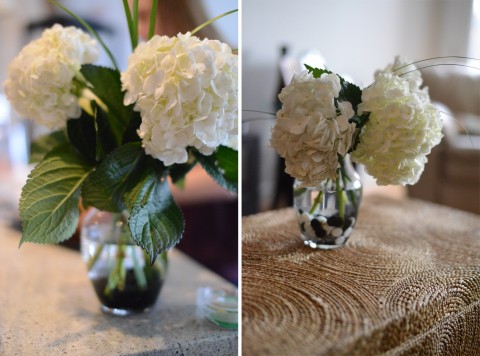 The paper straws and mustache cups were a big hit.  These were probably my favorite detail.  I've become slightly obsessed with the paper straws.  There were purple barbershop straws at our wedding and yellow ones for the husband's 30th birthday party.  The truth is I might never throw another party without them hahaha.  Seriously all parties will have barbershop straws!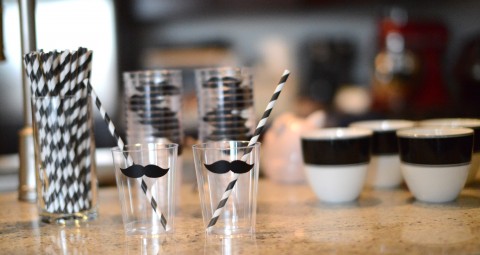 We played two shower games.  The first was "How big is mommy's tummy?".  I look awfully serious measuring how many toilet paper squares Rebecca's belly is.  I love the picture to the right as she counts the square … all smiles!!!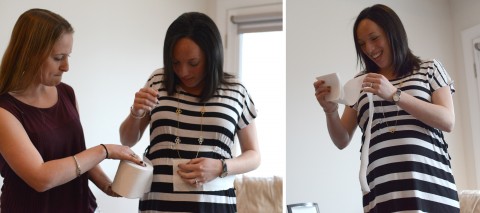 Next up was the poppy diaper game.  I was surprised at how stumped everyone was trying to figure out what type of candy bars were in the diapers.  The hardest one was the dark chocolate milky way … apparently the dark chocolate really threw everyone off.  And let me just say that the butterfinger game me a run for my money.  That candy bar was HARD to melt!
Thanks to all the beautiful ladies who came to shower the mom-to-be and her little man!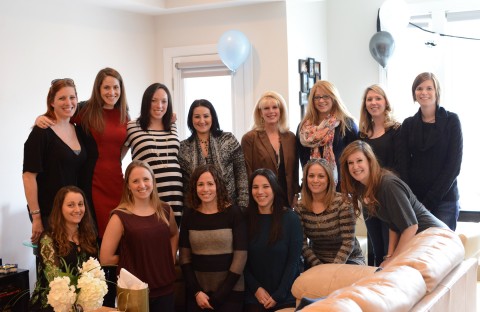 I put the party favors (with the DIY tags) on a platter and placed them by the front door.  I had to remind people to take them as I didn't want 14 lollipops for myself!  I think they were a big hit and displaying them during the party added to the decorations.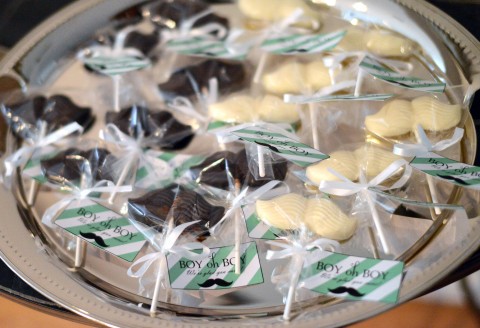 Thanks for combing on over for this Little Man baby shower.  What's your favorite detail?
Happy Party Planning!
If you like this post, please add your tidbit by commenting below and/or add Life's Tidbits to your RSS Reader :)